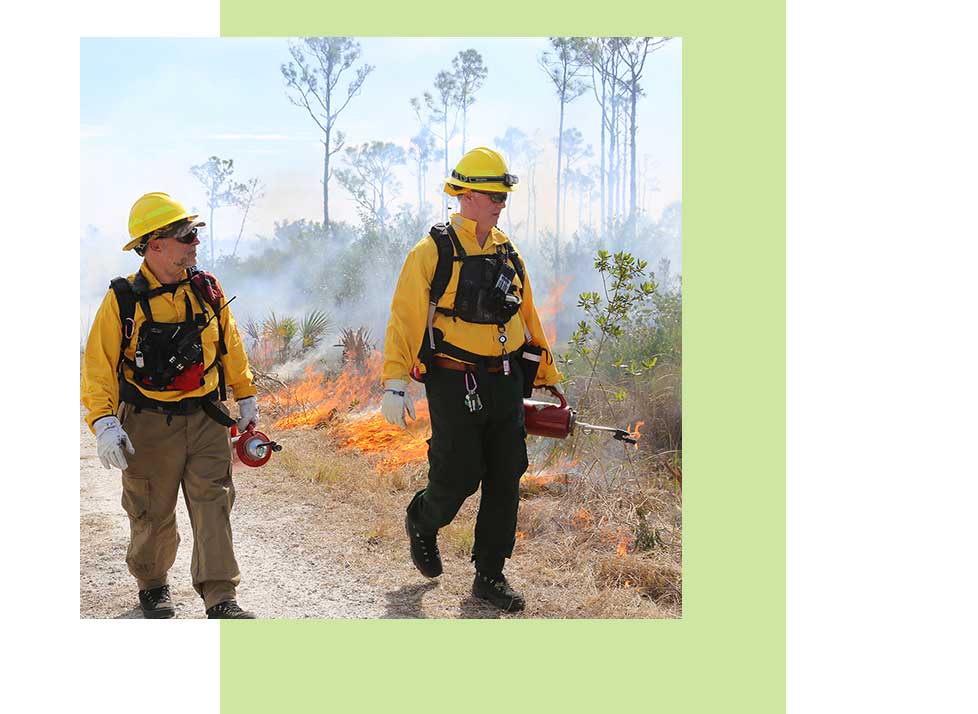 Fire is a process of rejuvenation. Some benefits of fire include replenishing nutrients in the soil, reducing natural fuel loads (downed limbs and dead leaves), stimulation of seed production, and maintenance of natural plant communities that benefit native wildlife. Although plants look pretty scorched after a fire, they resprout in a matter of weeks. Even during this time of blackness, beauty is everywhere, and wildlife is taking advantage of newly-available food resources.
Land management through prescribed fire is a beneficial method of maintaining suitable habitat for native wildlife. Research and monitoring of these management actions are important in assessing the success of fire management strategies. In the past, fire suppression on Reserve lands greatly increased fuel levels, or the amount of dead or dried leaves and branches that could easily be ignited under proper conditions. Currently the Reserve has an active prescribed fire program using trained staff and trained personnel from partner agencies.
A major portion of Collier County is comprised of plants that are dependent on fire to maintain species composition and diversity. These species are the same as those that are prone to lightning-strike wildfires and the controlled reduction of those fuels will prevent catastrophic wildfire damage. Fire-dependent plants include the South Florida slash pine, gallberry, saw palmetto and scrub oaks.
Prescribed fire as a land management tool in natural areas has many benefits, including:
• Reduction of fuel load to decrease threat of wildfires;
• Stimulation of food and seed production
• Opening areas for wildlife feeding and travel;
• Ecosystem diversity;
• Enhanced endangered and threatened species habitat; and
• Invasive plant control.
If you have questions or concerns about smoke in your area, please contact the Florida Forest Service at 239-690-8001.
E-Newsletter
Keep up-to-date on the latest news, events, research, and fun happenings at Rookery Bay!