ART RECEPTIONS AND EXHIBITIONS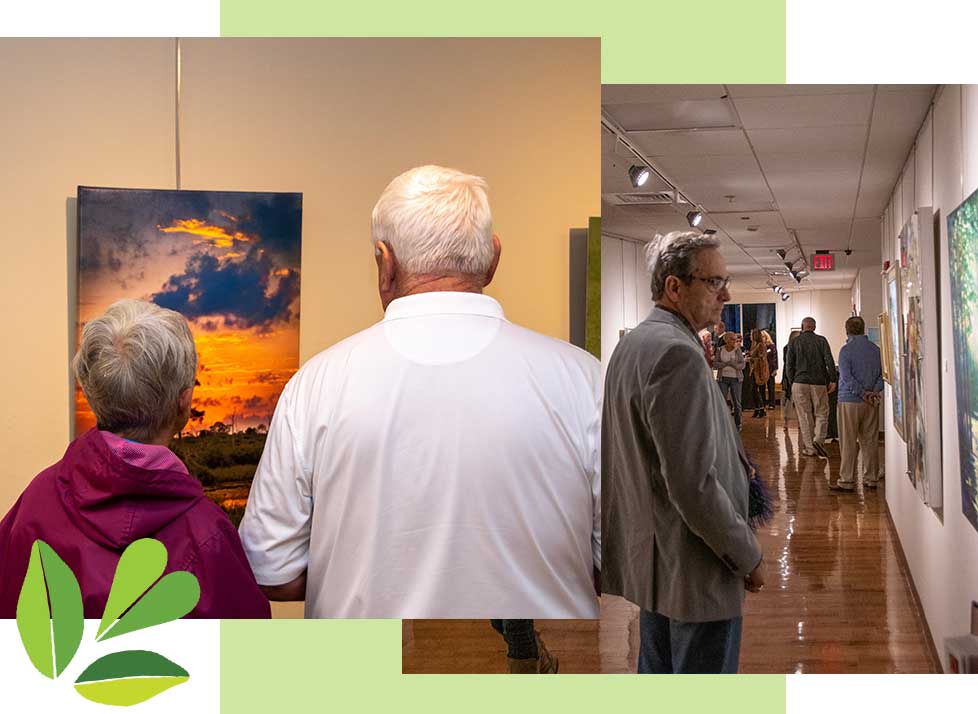 Intersection of Art & the Environment
The Rookery Bay Environmental Learning Center Art Gallery hosts several exhibitions each year. A partnership with the
United Arts Council of Collier County
(UAC) enables annual exhibitions of painting and photography juried by local art experts while other shows feature works by local students, Reserve friends & family, or featured artists. Most of the works are available for purchase.
The Reserve and UAC work together to promote the arts and the environment. While applied science is the focus of most Reserve activities, we acknowledge that there are many pathways toward greater understanding of the natural world.
Our Art Gallery creates an opportunity for people to increase their sense of wonder for nature by stimulating and celebrating personal expression through the visual arts.
May 2nd - October 28th
Summer Art Show:
The Land They Love
Join exhibiting Rookery Bay Research Reserve's Staff and Volunteers during our Summer Art Show. Exhibit Dates: May 2 – October 28, 2022 at the Environmental Learning Center. Some are available for purchase by visiting during business hours to see all our amazing local artists have to offer.
Featured artists include Ann D'Alessandro, Paul Allen, Geoffrey A Britt, Terri Caton, Jean C Hall, Kathleen Lunday, Evan Sherer, Martin Strasmore, and Macy Noll.
2022 Natural Selections:
Painting Annual Exhibition
Artists submitted works that reflect Florida's flora and fauna. Three winners will be selected by a juror of professional stature in the Southwest Florida arts and cultural community and will be announced during the evening's festivities.
Exhibition: November 1, 2022 – January 27, 2023
Reception: November 3, 2022 from 5:30pm – 7pm (registration required)
2023 Natural Selections - Photography Annual Exhibition
Join exhibiting photographers and juror for our Annual Photography Art Reception. Photographers submitted works that reflect Florida's flora and fauna. Three winners selected by a professional photographer will be announced during the evening's virtual festivities, as well as the first screening of the virtual exhibit.
Exhibition: February 1, 2023 – April 28, 2023
Reception: February 2, 2023 from 5:30pm – 7pm (registration required)
Even more fun at Rookery Bay!
A visit to Rookery Bay has so much fun in store for Kids & Families. Visit our Environmental Learning Center, Explore Rookery Bay with Nature Tours by Boat & Kayak, or take in a lecture.
E-Newsletter
Keep up-to-date on the latest news, events, research, and fun happenings at Rookery Bay!